Introduction To Remote Fuel-level Monitoring
As a result of escalating demand and costs, theft of fuel from stationary tanks and transport tankers is on the rise. In order to reduce losses, costs, more and more companies are looking for solution to monitoring fuel consumption during both storage and transportation.

With years of research of real-time remote fuel-level monitoring solution, CR-GPS accumulated rich experience in the field of fuel monitoring field, A real-time remote fuel-level monitoring solution is an option for managers who need to know exactly when and where fuel losses are occurring.

In addition to notification of a sudden change in fuel-level, a well-designed remote monitoring solution is able to provide other valuable information, such as how much fuel is lost, as well as the fuel cost management with driver's behavior, which will make fleet managers to save more cost and manage the fleet efficiently.
General Structure of System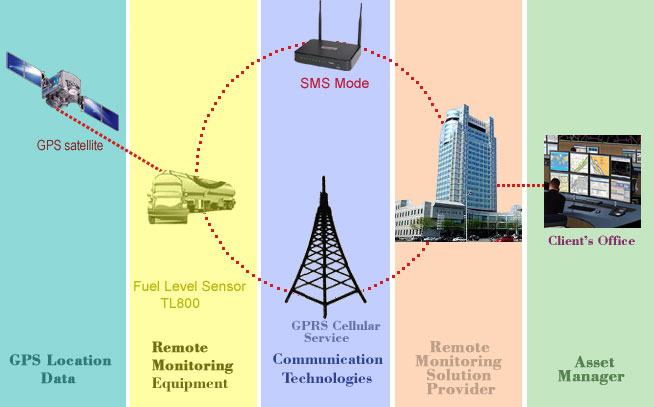 In general, a remote-fuel level monitoring solution consists of 3 parts:
Fuel-Level Sensor:
One or more fuel sensors connected to one or more fuel tanks that indicate current fuel level in the tank.

learn more
Communication Equipment:
A GPS tracking terminal that interfaces with the fuel sensors and send fuel level data to the data center via GPRS/GSM with location, speed, mileage information……etc.
Fuel Monitoring Analysis Software Platform:
A server application that receives data from the communication equipment and analyzes reported fuel level information to fuel management reports and charts, which can be displayed on the client software interface(IOS, Blackberry, Android, Windows operation support)
Fuel Reports and Charts Can Help For Management
Sample of "Fuel Reports"
the special monitoring software collect all this data from your vehicle fleet and generate the series of special reports that allow you to see the real detailed pictures of your vehicle activity and fuel usage.